Records and Registration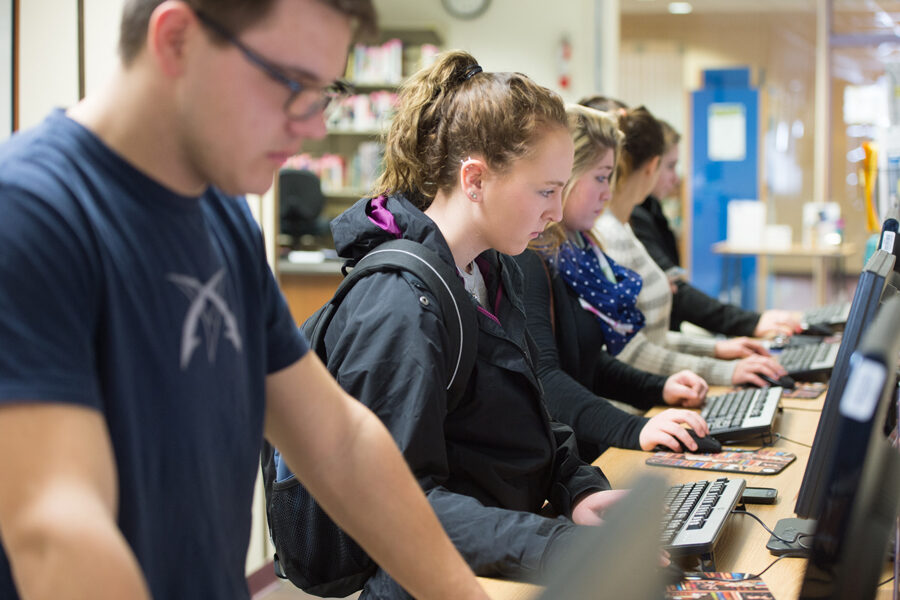 The Office of Records and Registration provides high-quality, efficient service to all stakeholders, while maintaining the accuracy, integrity, and security of all academic records. Located in the Student Courtyard, the Office is open Monday – Friday 8:30 a.m. - 4:30 p.m.
To contact the Office, email registration@sunycgcc.edu, call 518-697-6420, fax 518-828-1187, or use our form.
Transcript Requests
Students and former students may request unofficial or official transcripts of their academic record   be sent to themselves, current or potential employers, and/or to other colleges. To request a transcript, current students may submit a request through the Banner student portal. All others must submit a signed and dated written request via the transcript request form. The form must be filled out completely and include a handwritten signature. To ensure timely delivery, the recipient section must include full and complete address(es). The College does not charge a fee to request transcripts.
Registration
Students who have been formally admitted to a degree or certificate program (matriculated) and wish to register for classes must make an appointment to meet with an academic advisor by calling the Advising Office at 518-697-6395.
Students who wish to sign up for a course or courses as a non-degree seeking student (non-matriculated), including those seeking to audit a course, should fill out the non-matriculated registration form.
Students will receive an acknowledgement of their request following a review by Records and Registration staff.
Students who wish to register for non-credit courses should contact the Office of Community Engagement.
Students applying for cross-registration as either a home or host student must complete and submit the SUNY Cross-Registration Form.
Add, Drop, Withdraw
Students may add, drop, or withdraw from a course according to the published dates in the Academic Calendar through their Banner student portal, unless withdrawing from all registered classes. Students withdrawing from all courses must contact the Office of Records and Registration and should consult their advisor before making any schedule changes. Students receiving financial aid also should check with the Financial Aid Office to determine any potential impact on their aid.
Adding a Class
Students may add a class or classes on a space available basis until the end of the first week of the semester (in a 15-week semester). Students may review the list of available courses on the Credit Class Schedule.
Dropping a Class
Students may drop a class or classes until the end of the third week of classes (in a 15-week semester). Dropped course(s) will not appear on the student's transcript. Tuition refunds for dropped courses will follow the tuition refund schedule and any questions regarding refunds should be directed to the Bursar's Office.
Withdrawing from a Class
Students may withdraw from a class or classes after the end of the drop period until the end of the 11th week of classes (in a 15-week semester). Withdrawn courses will appear on the transcript with a grade of "W"; no refunds will be given for withdrawn courses.
Obtaining Grades
Current students may access their grades, schedules, and unofficial transcripts online with Banner Self-Service.
Enrollment Verification
Students may request that verification of enrollment be sent to a current employer, health insurance company, or other agency in writing, in person at the Office of Records and Registration or emailed from the Columbia-Greene email account.
Graduation
Students close to completing all program requirements must complete an Application for Graduation. To apply for graduation, login to the Banner Self-Service student profile page, click on the "Apply to Graduate" tab, and follow the steps to complete the graduation application. The College awards degrees after the completion of each semester (Fall, Spring, and Summer); however, only one Commencement ceremony in May honors graduates. Students unsure about their status should meet with their advisor and/or check DegreeWorks for information.
Account Access
Students may find links for Account Access Help, Banner, DegreeWorks, Brightspace, and more on MyCGCC.
Family Educational Rights and Privacy Act
The Family Educational Rights and Privacy Act (FERPA) is a federal law that affords eligible students the right to have access to their education records, the right to seek an amendment to records, and the right to have some control over the disclosure of personally identifiable information from the education records. FERPA rights belong to students who are 18 years old or to those who enter a postsecondary institution at any age. For more information, refer to the College Catalog.
Students wanting others to have access to their records must have a signed FERPA Release Form on file with the Office of Records and Registration.