Veterans Stand Down 2023
See our agenda and updates, below.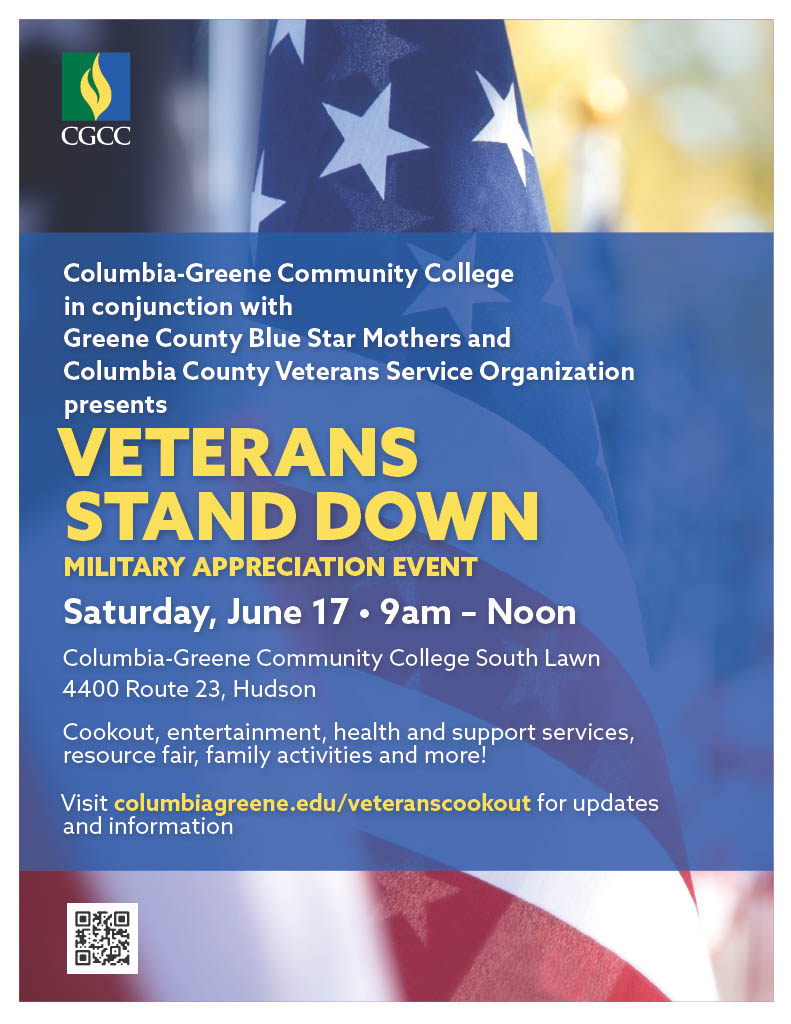 Veteran Vendors:
C-GCC Office of Accessibility Services
C-GCC Office of Admissions
C-GCC Veterans Club & Veteran Support Services Table
Columbia County DOH
Columbia County DOH – Healthy Neighborhoods
Columbia County DOH – PHEP
Columbia County Office of the Aging
Columbia County Veterans food bank and VSO
Division of Service-Disabled Veterans Business Development
Greene County Region NY #13 Blue Star Mothers
Greene County Veterans Service Office (VSO)
Homefront Harvest
Hope for Hooves INC (Breezy Lawn Farms)
Hudson Valley National Center for Veteran Reintegration
Military: Army National Guard Recruiting Command
Military: Army Reserves Recruiting Command
Military: Marine Corps Recruiting Command
Military: Navy Recruiting Command
NYS Comptroller's Office of Unclaimed Funds
NYS Sen. Michelle Hinchey's Office
VA Health Care for Homeless Veterans Program
VA NYS Department of Veterans Affairs – Albany
Veteran Claims – provided by the Columbia County Veteran Service Office
Veteran Services Available:
Free Chair Massages – provided by Clover Reach Massage
Free Child ID and Fingerprinting – provided by the Columbia County Sherriff's Office
Free Haircuts – provided by A Cut Beyond
Free Health Checks – provided by C-GCC Health Officer
Free Immunizations Vaccine Clinic Services – provided by Columbia County Department of Health
Free Legal Consultations – provided by Hilscher & Hilscher Law Office
Free Mental Health / Addiction Counseling services – provided by Greener Pathways
Northeast Off-Road Adventures, Inc (NORA) Demonstration
Veteran Family Entertainment:
Live Music (Classic Rock) – Provided by the band "Jarrod"
Free food for veterans and family members
Bounce House – provided by Wolfgang's Bounce House LLC
Door prizes – provided by the Greene County Blue Star Mothers
Lawn games, and more!
Stay tuned for more announcements, and see you on Saturday, June 17th, 9am to noon!